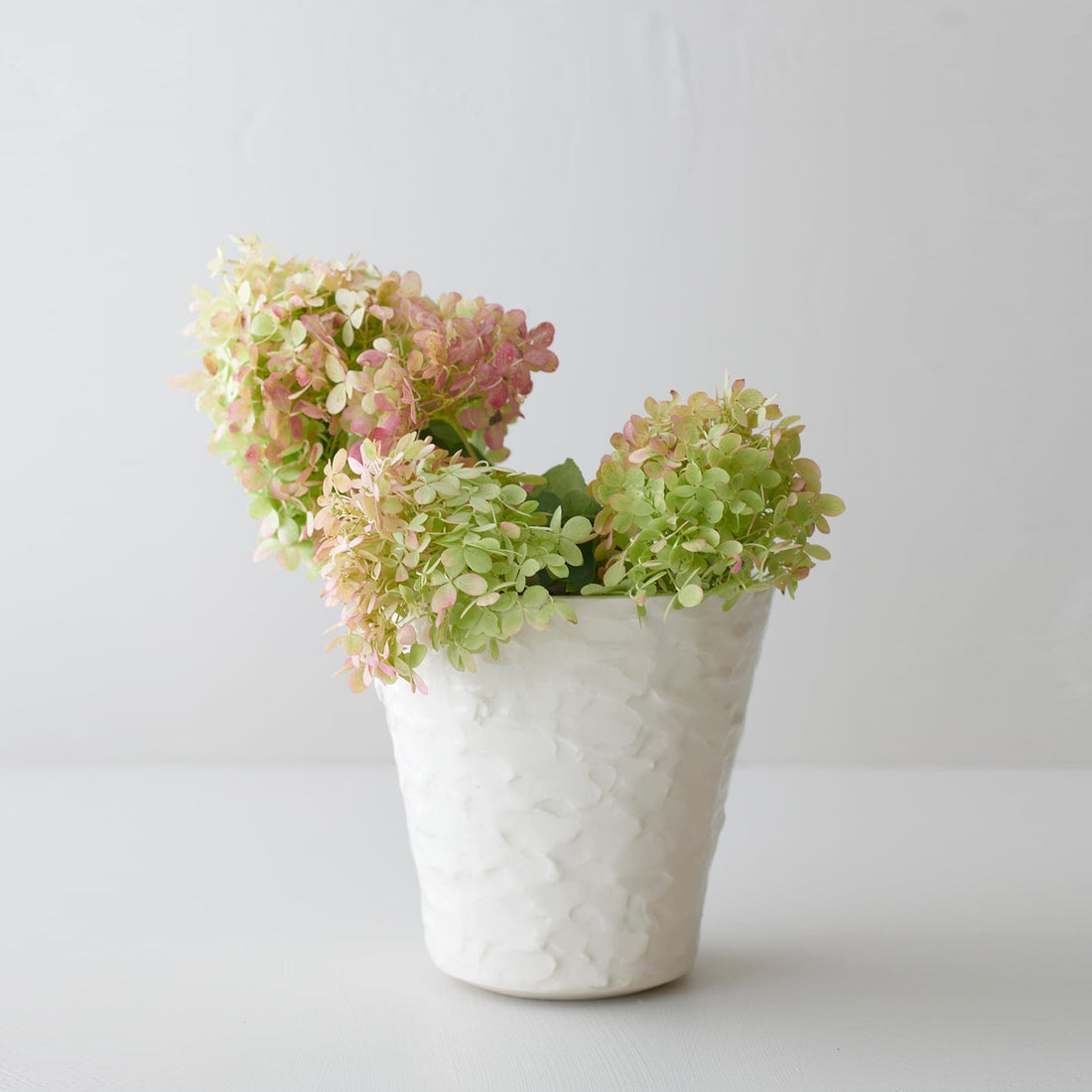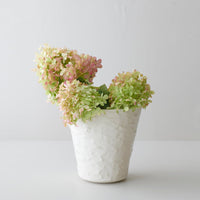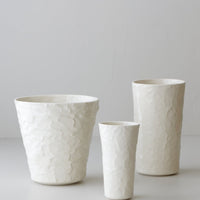 The original shape of our new Stucco Wide Vase was thrown on the potter's wheel to create it's clean lines and undercoat that creates a floating effect. We then layered on soft, squishy slip with a palette knife to create the stucco texture. and cast into plaster so we could pour our porcelain slip in small batches of vases.  A soft clear gloss brings out the texture.
Why We Love It: You may need a flower frog to achieve the most out of this large-mouthed vase but it will surely be worth it.  We like to cut Hydrangeas down low for a simple statement. Bonus; toss some ice in the bottom and slide in a bottle of wine for a stylish presentation or keep it on your kitchen counter to hold your wooden spoons and whisks.
About the Glaze: We developed our own glaze recipes and mix them in small batches regularly.
Our Stucco collection utilizes clear glaze to highlight the natural beauty of the porcelain
We apply a light coat on the outside to maintain the texture, and a full coat on the inside to make the pieces food safe
You may see some organic specks on your piece, we do not consider these defects, just part of the handmade nature of our work.
Handmade Means:
There will be variations in color and size
No two pieces will be alike
There may be some imperfections but we only ship items we feel are perfectly imperfect.
Everyday Luxury:
Our ceramics are handcrafted from durable, high-quality porcelain glazed to over 2200 degrees
Our glazes are food safe and lead-free
This piece is dishwasher safe
We make our tableware and accessories to be used and enjoyed every day.
Dimensions: 7.5" H x 7.25" D (at the top).
Production Lead Time: Each piece is made to order in our studio so please allow 15 business days for production. Larger orders like dinnerware sets or where noted in the product description may take longer. We will contact you if delivery time is extended.
STOCK + MADE TO ORDER While we aim to have some stock available for quick ship most pieces will be made to order. Production times are noted within each product listing. For most pieces please allow up to 15 business days to ship. Larger orders and more complicated work (i.e. lighting, bare lidded vessels) will take longer. In-stock and one-of-a-kind pieces will ship within 3 business days. Please check the product listing for details. RETURNS/EXCHANGES We accept returns for exchange or store credit within two weeks of purchasing. Because we make each piece to order we regret we cannot offer refunds. Shipping charges are non-refundable. We do not accept returns on furniture, lighting, special or custom orders, and gift certificates. These items are all final sales, non-returnable, and non-refundable. SHIPPING We ship all of our products within the Continental United States from our studio in Sharon, CT via UPS Ground. Your order should arrive to you within 2-8 business days from the day it ships depending on your proximity to our studio. Orders shipping to Alaska and Hawaii ship via USPS. All orders over $250, shipping within the Continental United States, ship via UPS Ground free of charge furniture. Shipping charges for furniture will be quoted prior to purchase.
CRAFting the future
Artists working together to provide equitable opportunities in the arts. Help contribute to this amazing organization by adding a $1.00 donation to your order. Learn more >
DONATE $1.00