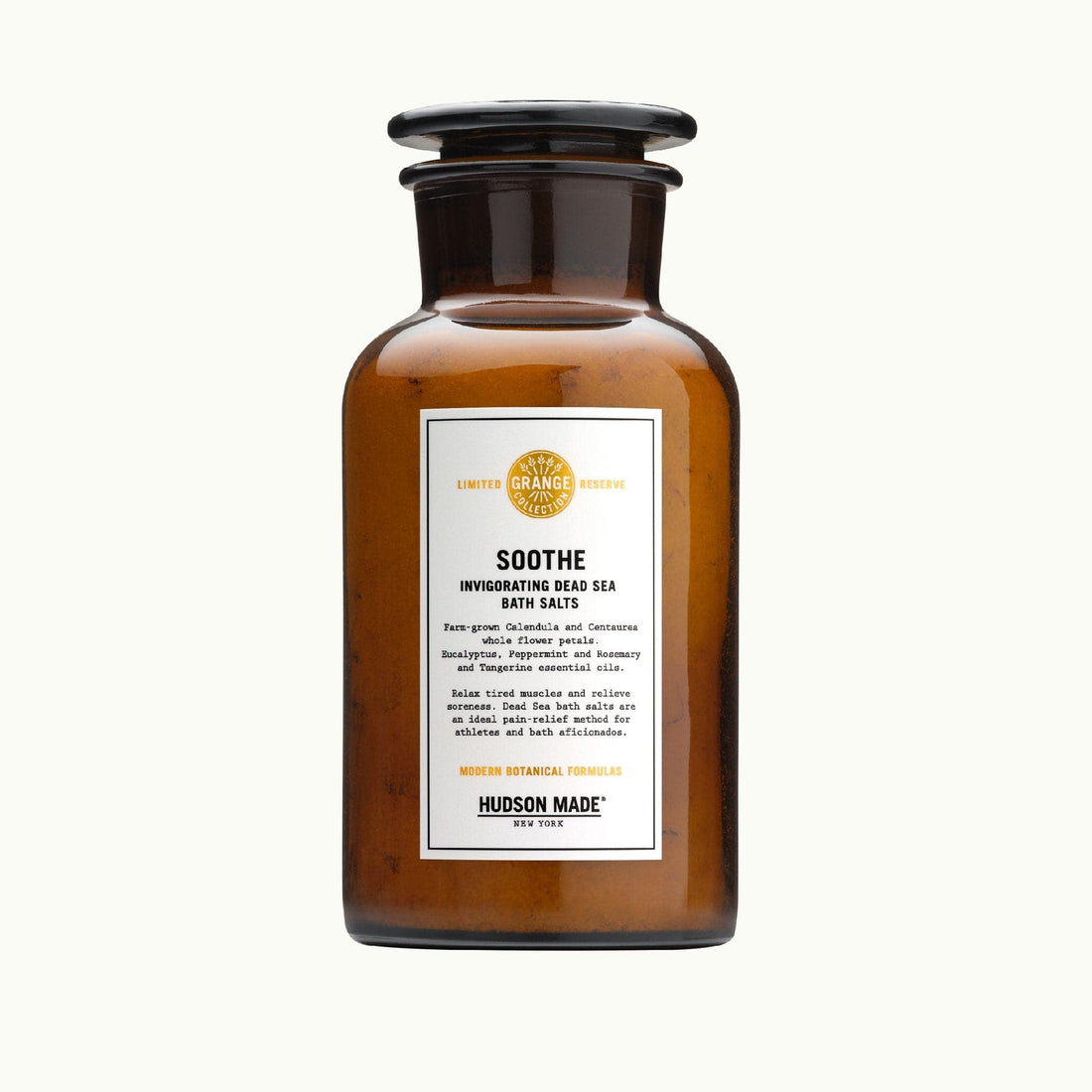 Morning Shift Invigorating Dead Sea Bath Salts
Rosemary, Peppermint, Eucalyptus.
• Cornflower soothes the skin.• Improve Concentration.• Energize tired and overworked muscles.• Open the chest and sinuses for healthy breathing.• Invigorating and Reviving.
Dead Sea Salts have been used for millenia to soothe tired muscles, treat a variety of skin conditions and make for a relaxing and luxurious bathing ritual.  
Soaking in water enriched with this salt is known to benefit the body from the inside out, treating skin conditions and improving internal processes. Dead Sea Salt contains 21 minerals including magnesium, calcium, sulfur, bromide, iodine, sodium, zinc and potassium.
The healing properties of Dead Sea salt can help relax muscle cramps and relieve soreness, making salt baths an ideal pain-relief method for athletes.
We incorporate organically grown Cornflower from the Catskill Mountains into our bath salts. This often overlooked field botanical is native to North America and Europe and is currently under threat due to habitat loss. Cornflower has cooling and toning properties so this wildflower is ideally suited to calm the skin.
Comes in a beautiful, reusable apothecary glass jar.
Directions:
Use approximately 1 cup for a standard-size bathtub.

Pour the salt into the warm running bath water and use your hand to stir the water to help dissolve all the grains.

Soak in the tub for at least 20 minutes.
FOR EXTERNAL USE ONLYIf you are pregnant or nursing, consult your doctor prior to using this product. 500 ml / 16.9 OUNCES
INGREDIENTSDead Sea Mineral Salt. Peppermint, Rosemary, Eucalyptus and Tangerine essential oils. Calendula and Centaurea whole flower petal.
Part of our Grange Collection - A limited reserve of premium farm-to-body botanical products in partnership with local farmers.
100% Satisfaction Guarantee
CRAFting the future
Artists working together to provide equitable opportunities in the arts. Help contribute to this amazing organization by adding a $1.00 donation to your order. Learn more >
DONATE $1.00