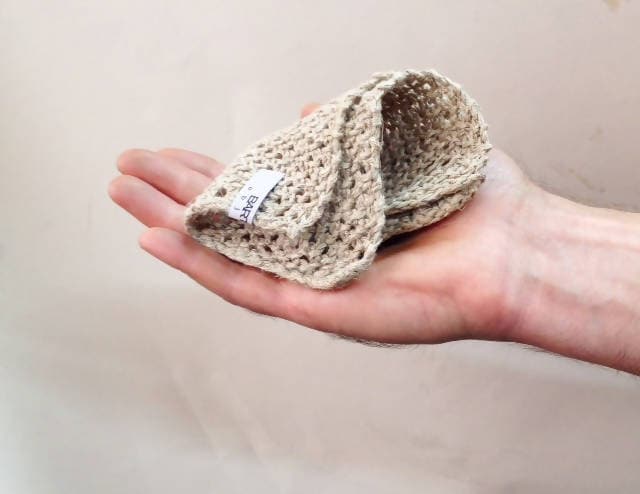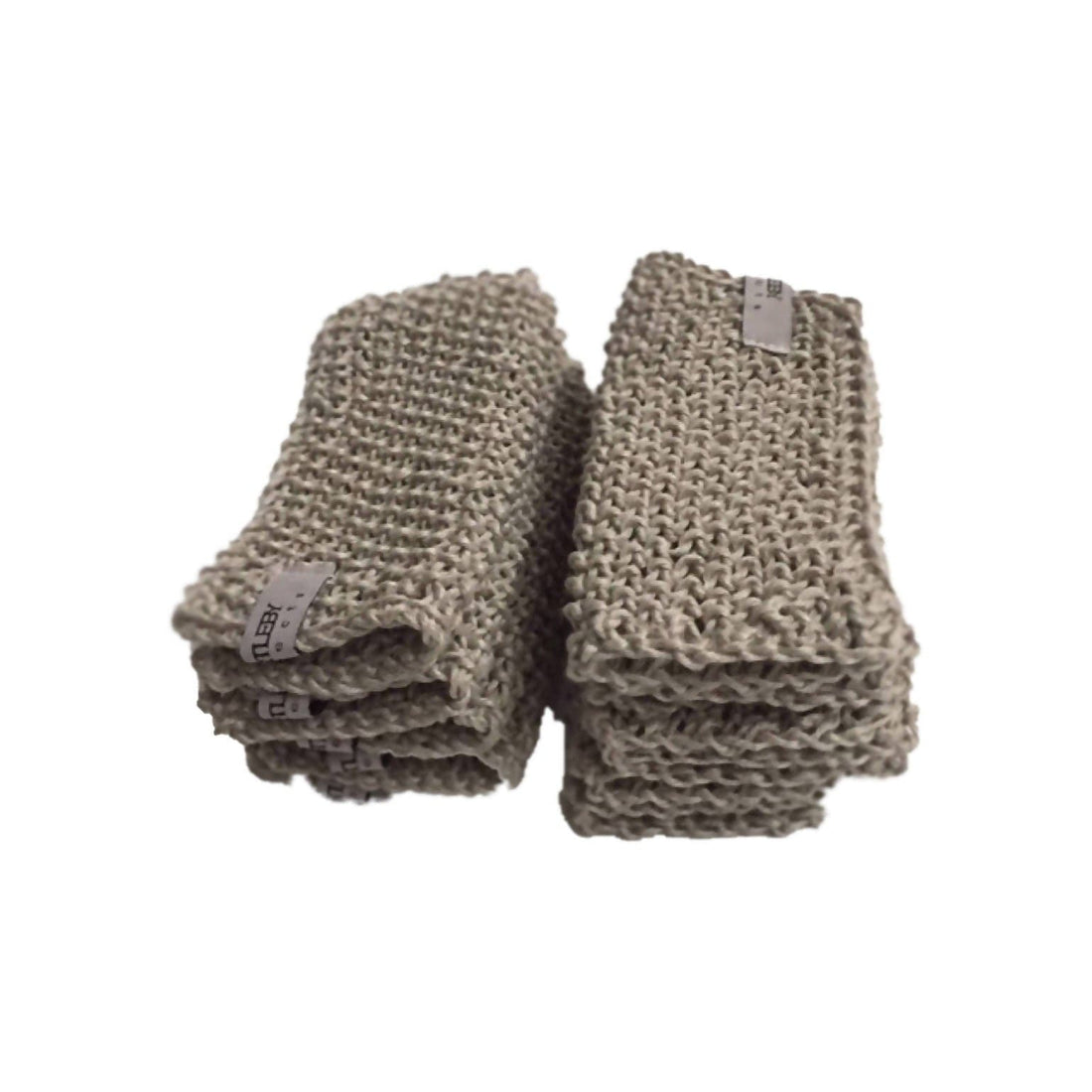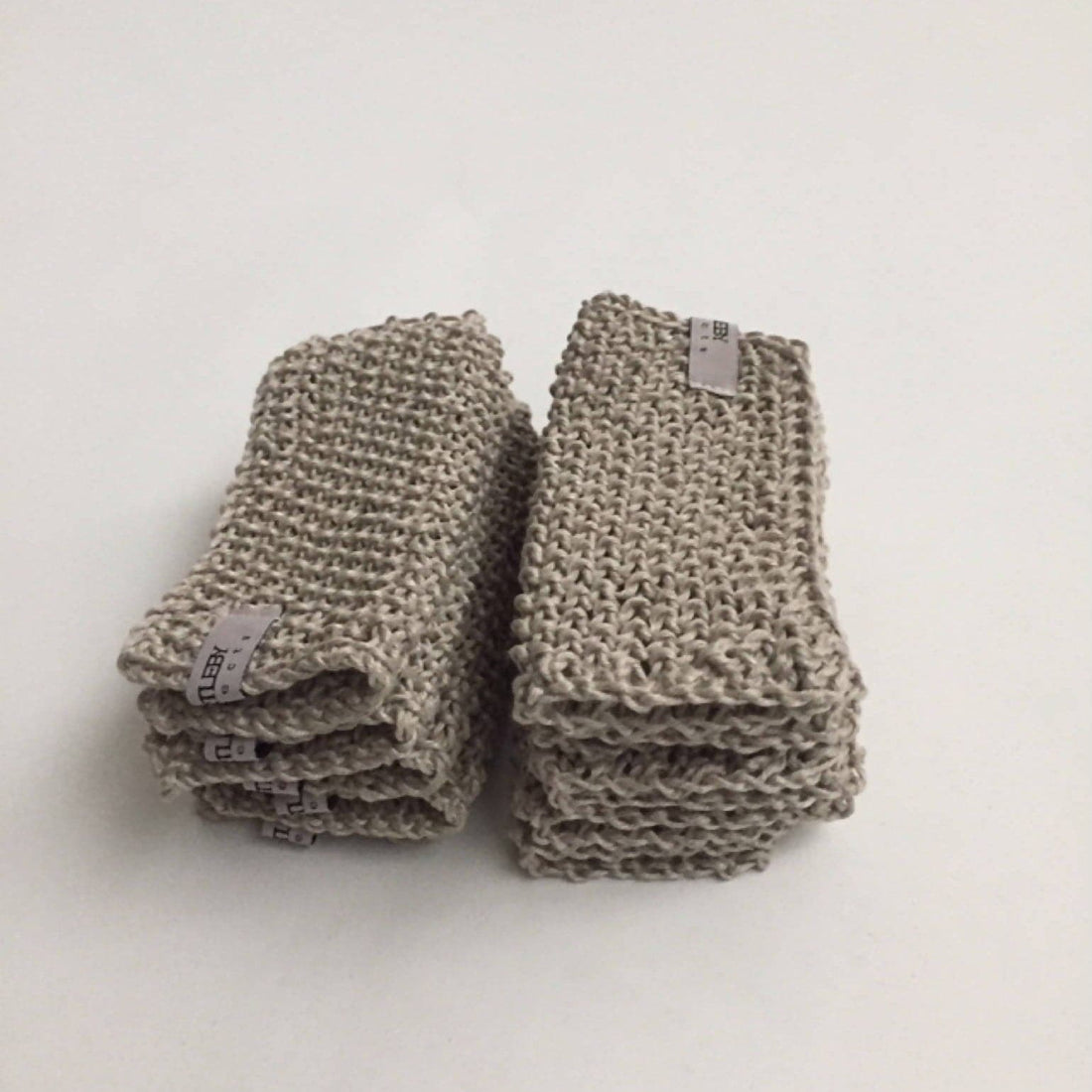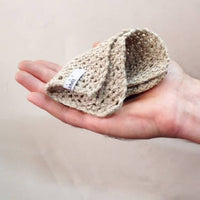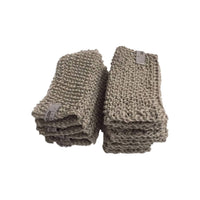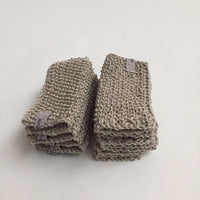 Knitted natural linen washcloths, for the kitchen or bath. Made from thick Swedish linen rug-warping yarn, the sturdy washcloths have just the right texture to scrub dishes, but soft enough to use on the skin.
The long-lasting washcloths are a perfect environmentally-conscious replacement for the dreaded kitchen sponge. For use on heavily-used pots, sprinkle kosher salt or baking soda for extra abrasion (depending on the pot material). 
Wash, wring out and hang to dry for daily use
When it's time, machine wash and dry
Hand-knit in New York
Roughly 5" square.
Dimensions: roughly 5" square.
Production Lead Time: Stocked items: ship in 2-3 business days from receipt of payment. Made to order: generally ship 1-2 weeks from receipt of payment. If timing is a factor, please contact us, and we'll quickly respond with an expected lead time or we may have one ready to ship.
If your order is a gift and you would like to include a note, please contact us to include the text of your note. We will hand-write a card to the recipient on your behalf.
RETURNS & STORE CREDIT We accept exchanges for store credit within 14 days of the ship date. Apologies, no refunds. To make an exchange, please contact us with your order information, including your name, email, and order date/number. Please include this information with your return, as well. Objects received after 14 days will receive store credit, less 15% for restocking. Shipping costs will not be credited. SHOE EXCHANGE POLICY We understand fit can be difficult with footwear. If you wish to exchange your pair for another size, please contact us within 5 business days - shoes in "like new" condition will be exchanged for a different size at no additional charge. As soon as we receive & check the returned pair for signs of wear, we'll get in touch to let you know how long it will take to make your new pair. Full or partial credit for shoes showing signs of wear (significantly scuffed sole, staining, overt stretching, etc.) will be applied at our discretion. Shoes exchanged between 5 - 14 business days can only be exchanged for store credit, as per our regular exchange policy. Apologies, no returns.
CRAFting the future
Artists working together to provide equitable opportunities in the arts. Help contribute to this amazing organization by adding a $1.00 donation to your order. Learn more >
DONATE $1.00